by Olivia Koetter, Nebraska Drifters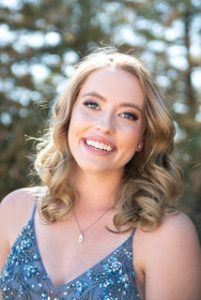 Earning a medal at my State high school tournament was a stellar ending to my tennis career, and I thought I was through playing the sport that I genuinely love at a competitive level. To keep tennis in my life, I committed to coaching a summer youth camp and league, but I knew the exhilaration of competition was going to be missing from my time on the court. When asked to join the Nebraska Junior National Team in June, my answer was an immediate yes!
Tennis can be a lonely sport despite supporters politely clapping from the sidelines. Players are on the court with only their wits, training, and strings as support. The idea of joining forces with others who love the game as I do and participate as a team was so exciting to me! The opportunity to compete this time with teammates to cheer for, comrades to offer advice, and a collective unit to celebrate wins and console after losses was an idea which strongly resonated with me after years of individual competition.
Understanding that the competition level would be extremely high, our team mission was to have fun, learn from each opponent, and play our individual best every time on the court. Before each match we set goals of winning an increasing number of sets in each round. By combining our efforts, we met every goal! Throughout the tournament my Drifters deliberately chose to have different player combinations in each round. Partnering with someone new amplified our 'team' mind-set and deepened the bond between us. As a vocal competitor, being allowed to cheer and support was so freeing. It was a bonus to find that exuberance carrying over into my own matches. My team finished dead last in the standings, but we had the time of our tennis-playing lives!
The camaraderie on the sidelines among members of opposing teams was very inspiring. It simply didn't matter that we were competing against each other. We appreciated and celebrated great shots and amazing saves on both sides of the net. Through every round, opponents who were strangers become friends who then became allies supporting each other. My team was absolutely stunned to be honored as recipients of the Team Spirit Award.
My personal victory came in my final match. After winning a grueling doubles match in a tiebreaker, I immediately began my singles match. The opponent substituted out with me leading 3-0. Before I knew it, the second opponent and I were in tiebreaker. Exhausted, I had to summon physical and mental strength I wasn't sure I had. With grit and patience, I prevailed! This was by far the toughest match I have ever played. I am immensely proud of my effort not because of the win, but because of the fortitude I played with.
Junior Nationals was truly an unforgettable experience. It allowed me to discover a new level of inner strength, make numerous friends from five different states, and it solidified my love of tennis.