By:  Jacques Sevrain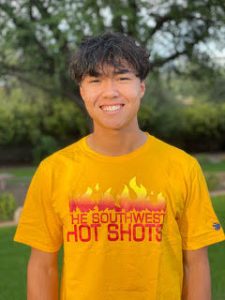 The Junior Nationals was a key pivot point for me, because it really changed my perspective on what is traditionally an individual competitive sport. This tournament offered friendships, high-level tennis, rare co-ed team experiences, and instilled lifelong values. Going into the tournament, I knew only my doubles partner and one mutual acquaintance from our section. I strengthened these preexisting friendships and formed new ones with players from all around the country. Cheering the Philadelphia team from several courts away and hosting group card games during rain delays in the USTA National Campus lobby, formed the kind of friendships that many junior players haven't yet experienced.
A new form of bond for me as a tennis player was one with 'a team,' a kind of connection that junior tennis typically lacks. An example of a new bond was with a teammate: an amazing player from another state whom I was able to connect with and learn from. I had this opportunity to play doubles with him, an unfamiliar player, pushing us to work with each other and learning to fight together for the win. New alliances like this were made all week long. Being on this co-ed team helped me adopt a team-oriented mentality, especially fun with those whom I wouldn't normally get to meet from another state in our section, for this shared adventure. As we were brainstorming names for our Southwest group, I learned the heroic stories of the Hotshots: an elite firefighter team who served side-by-side for the most challenging situations. With this, the 'fly as a team, die as a team' mentality kicked in, and we were excited to take the name of the Southwest Hotshots.
During this week, I also learned the value behind a team sport. I believe that my fellow tennis players loved being shoulder-to-shoulder with relatable players. The fact that none of us were ever too shy to cheer, proves that point. Tennis players tend to mentally beat down on themselves, but in this tournament, a whole team lifts you. Having a team on my sideline flipped my perception of what can be ruthless tennis competition. I entered this tournament a little intimidated as a humble, local tournament player. While I fought, my teammates unconditionally had my back. The loud cheers–after I won one point against a much better player–kept a smile on my face even as the next four were swept by my opponent. With these challenging matches, I learned that being able to keep your chin up even if you lose is a worthy personal victory. Seeing the line of orange Hot Shot t-shirts on my sideline made that a thousand times easier to understand. Whether we won or lost, we always found something to laugh about. Recalling feats and losses over pizza and a deck of cards, as you sit in the hotel lobby with your version of the ITT Southwest Hotshots is something every tennis player should experience in their lifetime.